This next installment of registry product information is cookware! Much like our casual dishes our cookware was purchased when Patrick moved into his bachelor pad. We had the Cuisinart Chefs Classic 10pc set (as seen below). I recommend this as a good mid-range set. And the reason I refer to it at "mid-range" is because there are other stainless steel sets that conduct heat better.
Here's my brief summary of what to look for in stainless steel cookware:
Stainless steel alone does not conduct heat very well. Aluminum, on the other hand, is a great heat conductor. In mid-range stainless steel cookware sets (like the Cuisinart Chefs Classic) there is only an aluminum encapsulated bottom. This means that only the bottom of the pot/pan is conducting heat and not the sides. For even heat conduction a pot that is fully clad with aluminum is your best bet. In the above picture you can see a tiny line at the bottom of the pan and this is where the aluminum is. In a fully clad pot the bottom and sides will be seamless.
As for stainless versus nonstick I think that is personal preference and should be chosen according to your cooking style. Stainless is, however, easier to care for. It can go in the dishwasher and you can also use any utensil with it whereas nonstick pieces should not go in the dishwasher and you should only use wood/silicone utensils with pots.
One last thing we considered before we registered was what pieces to register for. Should we do a large set or open stock? We opted for open stock. Just like our casual dishes we wanted to be able to customize our cookware set and we only wanted pieces that we would use. This also allowed us to mix and match stainless and nonstick. I think the type of pot/pan definitely is a factor with what kind of pot finish you have.
Ultimately we chose the Calphalon Contemporary line. It has fully clad stainless and hard anodized nonstick lines. Below is the stainless set.
8 quart covered stock pot (included in set) OR 8 quart covered multi-pot with strainer and steamer inserts
If you could choose between a stock pot or a multi-pot I think it's a no-brainer to choose the multi-pot! It's a stock pot, steamer, and built in strainer in one! We have loved having this multi-pot in our arsenal of cookware. One evening I was making a pasta dish that had broccoli in it. And guess what I did?! Cooked pasta in the stock pot with the strainer and then steamed broccoli above it in the basket. Then once the pasta is done I can simply remove it by taking out the strainer. This is also helpful if a dish requires putting some pasta water back into it. Patrick has heard me mutter "oops, I was supposed to reserve pasta water" more times than he would care to admit I bet!
This pot is also great for making homemade chicken stock! We put the carcass of a roasted chicken with an assortment of veggies in the strainer and fill the pot with water. After a few hours of simmering we can lift the chicken and veggies out and have amazing stock left behind.
Multi-pot for the win!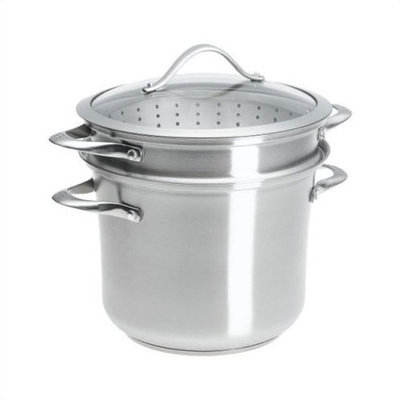 Stainless 3 quart covered saute pan (included in set) OR Nonstick 13" deep skillet
As previously mentioned, registering for or buying cookware open stock allows you to create an ideal set for you. You can mix and match various sizes and finishes to the demands of your kitchen. In the stainless steel set there is a 3 quart covered saute pan. We actually wouldn't mind this pan but know we would use a large nonstick skillet for more cooking. In the future we may add the stainless saute pan to our collection so that we can sear items and then make sauces with the browned bits left behind (the browned bits don't develop as much with the nonstick surface).
Patrick and I were very conscious with selecting just the right cookware pieces we wanted so we wouldn't have extra cookware clutter. When we registered we looked at our current pieces and asked ourselves "what don't we use that much?" Since we've enjoyed cooking for the past few years now we are familiar with our skills and abilities to know what pieces would be advantageous to have and pieces we wouldn't need.
Extra pieces: Stainless 16" roaster with V rack
At some point we know we'll be hosting a holiday dinner and will need a roaster so we registered for one. But we've already been using it! We like roasting a whole chicken and having the meat repurposed for leftover meals later in the week. And of course we then utilize the multi-pot to make chicken stock with the chicken we roasted with this roaster!
Extra pieces: Nonstick 12" flat bottom wok
Patrick loves to stir fry! His absolute favorite recipe to follow can be seen
here
. We make this quite a bit. Even though stir fry dishes can be made in a large frying pan we wanted to have this specialized piece since we do enjoy stir frying.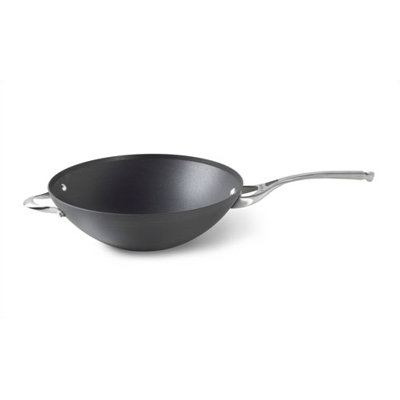 Do you have a specialized piece in your kitchen to make a favorite dish?! We'd love to hear about it.